Ray's Rub
A true all-purpose seasoning packed full of mouth watering herbs and spices...21 to be exact! Ray's Rub can be applied to just about anything. Complementing any cut of beef, chicken, wild game, casseroles, stews, and the list goes on and on. It's your call... We promise, once you try it, Ray's Rub will be the ONLY all-purpose seasoning you will want to buy.  
Our Story
From a small family recipe created over 15 years ago to a scaled up business, Ray's Rub has become a household name.
About us
Free Shipping on All Orders Everyday!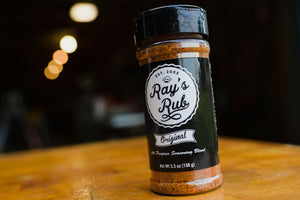 Ray's Seasonings
Ray's Rub
Sale price Price $11.99 Regular price
"Ray's Rub is the bomb! We use it on all our meats and it's the best whether on the grill or stove you can't go wrong!"
"Spice up your life and your steak with Ray's Rub as your date!"
"No family outing is complete without a healthy dose of Ray's Rub."
"Amazing product and super fast shipping!"
"Ray's Rub works well on anything from pork, chicken, steak, to seafood and veggies"
Donate Now
Ray's Seasonings is a proud partner of the ABTA. Follow the link below to find our more...
View